Your partner for Regulatory Solutions and Evaluation Services
Infront Quant is a leading RegTech in the field of independent calculation and pricing services. Special focus lies on calculations of risk figures in connection with regulatory requirements such as PRIIPs, MiFID II, etc., as well as fair value calculations of all financial products.
Our solutions are high-quality proprietary developments and no black boxes. Due to our strong relationship to academic research all services reflect or define the market standard at any time. We offer the agility of a start-up, combined with the (outsourcing) compliance and scalability of the established parent company Infront.
Infront Quant's innovative services and products are used by banks, asset managers, associations, family offices and insurance companies. The latest technologies and programming languages are used.
Who we are
Independent Fair Value Calculations
Infront Quant provides independent fair value calculations and plausibility checks for all financial products, especially complex structured and illiquid products. Extract of product type coverage:
Structured products / certificates
Straight fixed bonds and floaters
Callable lower Tier II bonds
ABS structures (incl. subtypes
Repackaged securities in SPVs (e.g.: participation certificates)
OTC derivatives
IAS 39 compliant price feed, market conformity checks/
transaction validation and best execution
Comprehensive ISA 39 compliant price feed for all liquid and illiquid (OTC) products. Completely automated and scalable platform solution to meet regulatory requirements and flexible integration into existing environments. Post trade validation (market conformity checks) of buy and sell orders according to regulatory standards and best practices based on market prices, (calculated) benchmarks and fair value prices for all liquid and illiquid (OTC) products as well as best execution services for all types of securities.
Regulatory figures and input factors
Calculation of regulatory required figures such as PRIIPs SRI, performance scenarios, reduction in yield, SRRI etc. Easy integration via standard interfaces into existing IT environments or as part of the full service solution Infro ntTemplate Manager. The calculation is completely outsourcing compliant and meets all regulatory requirements. In addition, Infront Quant has a large number of high-quality input factors such as yield curves, spread curves and valuation prices. Based on the detailed revaluation of certificates and leveraged products, additional price sensitivities ("greeks"), other input parameters for valuation purposes (e.g. implicit volatilities) as well as ratios (yields, discounts to thresholds etc.) and probabilities of events (knock-out probability, expected yield, etc.) are calculated.
Document Hub
Platform for regulatory documents, mandatory publications, relevant fund and marketing documents.

The Document Hub is a comprehensive, modular service offering for the distribution, procurement and archiving of regulatory documents. In addition, the vwd document hub enables the provision of (meta-)data and functionalities to meet the regulatory requirements for your consulting process.
With the following modules we support you efficiently, legally and process-oriented in your securities business:
Information sheet (PIB) within the meaning of § 64 para. 2 WpHG for shares and bonds, with the corresponding metadata
Basic information sheet according to PRIIP regulation (PRIIP-KID) as original PDF document from issuers, fund providers and derivatives and futures exchanges with relevant metadata and version history
Basic information sheet according to FIDLEG (BIB) for the investment and securities business in Switzerland
Fund documents and mandatory publications, such as key investor information (in accordance with UCITS & CISAs), original fact sheets, sales prospectuses and financial reports
Metadata on target market and cost transparency as well as CEPT/EPT reporting of investment companies
Identification of the target market for non-PRIIP relevant instruments
Individual documents for investment advice such as fact sheets, product information, in-house opinions, research, etc.
Infront Template Manager
Infront Template Manager
Process-reliable template creation, workflow-supported administration, regulatory-compliant key figure calculation and automated distribution.
The Template Manager is part of our modular platform services and enables the simple creation and administration of regulatory documents such as product information sheets (PIBs), basic information sheets (PRIIP-KIDs) or the creation of final termsheets and all documents relating to your individual products and their presentation.
By combining individual platform components and a central database, we offer you a tailor-made solution for your individual process landscape. From the individual module for the automatic creation and administration of documents to the full PRIIP-service, we serve your requirements from a single source.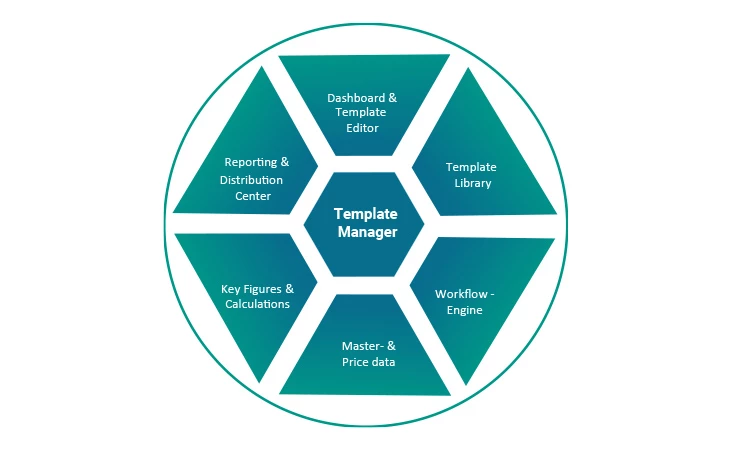 MiFID II-Services
Future-proof with the Microservice- and Cloud(ready)-MiFID-II solution.

With the entry into force of the MiFID II Regulation from January 2018, financial distributors must inform their customers in an extended form about the target market and the costs of the financial products they sell.
The focus here is on customer profiling, the new area of target market determination and comparison, the extended suitability check/statement, extended ex-ante and ex-post cost transparency, transaction reporting in the area of reporting and the digital and timely expanded reporting obligation.